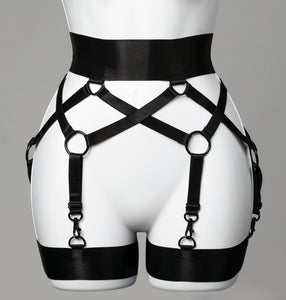 All items are MADE TO ORDER 
Ships in 4-8 weeks 
Multiple item orders may take longer
BLACK and SILVER hardware available
Luxurious satin hip harness with attached criss-cross garter design. Thick waist cincher attaches garter in place. Various metal hardware adorns the design. Garters are fully adjustable. Swan hooks connect to satin thigh garters. Metal hardware can be black or silver.
Athena embodies wisdom that can only be found with experience and the passing of time. She carries herself with confidence because she understands the world around her with a deep understanding. She herself has experienced many of life's unpleasantries but uses her wisdom to help guide those around her to help navigate their own lives.
Time is like the sand that slips between our fingers. There is a plentiful amount of sand, that is clear to see. So easily do we take this sand for granted, knowing there will always be more. The sand continuously slips away even in our hours of sleep and when we look away. There is nothing we can do to hold onto the sands of time. We must not fear time although it is against us. Our existence gives us meaning and all that is left is finding our purpose.
Please leave your waist, hip and thigh measurements in notes at check out if you want a custom fit. 
Care Instructions: Hand Wash in cold water. Drip dry