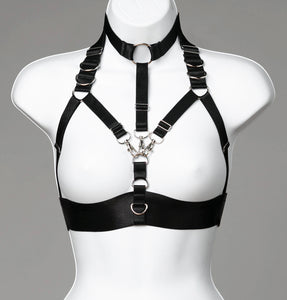 All items are MADE TO ORDER 
Ships in 2-6 weeks 
Multiple item orders may take longer
BLACK and SILVER hardware available
Aradia
Luxurious harness with black satin elastics with velvet backing under breast for support and comfort. Satin choker is detachable. Adjustable swan hooks connect to D-ring closure and close harness in the back. Metal hardware can be either black or silver. Satin harness can be worn either over or underneath clothing.
Aradia embodies a woman of independence through knowledge. She is strong though her mind and can not be swayed though others influence because already knows and speaks the truth. She refuses to be oppressed by her environment, her voice is her strength. 
Traveling is not only a physical destination but also a mental one. The most beautiful worlds to visit are those that have been written in text. There are many universes that are waiting to be shared and discovered. Emotions that can only be communicated in silence though ink but felt within your soul. Places we may never see but revisit them over and over through our minds. People we've never met, yet we wonder where they are now. Only those who've chosen the same universe understand however, everyone else have chosen other universes.

Please leave your bust and under bust measurements in the note sections at checkout if you want a custom fit
Hand wash in cold water, hand dry.